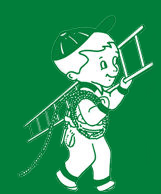 Harold R. Clune, Inc.'s Electricians are all IBEW (International Brotherhood of Electrical Workers) members. The majority holding cards from Local 236 (Albany) and Local 910 (Watertown). Most have ten to twenty years experience working for our company.
All Electricians complete a 5 year training program administered through the Tri City Joint Apprenticeship Training Committee.
Our office staff includes:
Three full time Estimator/Project Managers, all with over twenty years experience.
Two full time Clerical/Bookkeepers with over ten to twenty five years experience and one part time Clerical/Bookeeper.
https://www.dol.gov/general/topics/posters#workplace-posters
https://dol.ny.gov/posting-requirements-0
Memberships
IBEW
NESCA
NECA
BICSI
Saratoga County Chamber of Commerce
Certifications
LEVITON CABLING
NYSERDA
REYCHEM
NYS FIRE/SECURITY
Master Electrician License
CITY OF ALBANY
CITY OF TROY
CITY OF SCHENECTADY